FRP Installation: Houwellings Delta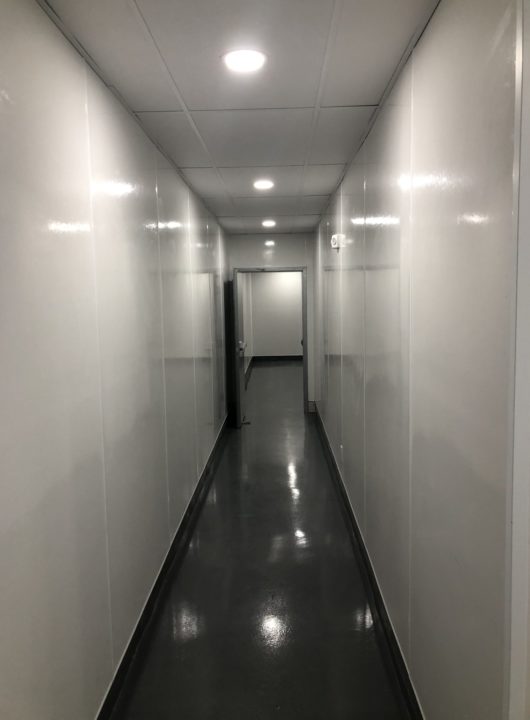 Fresh, Smooth White FRP Panels installed at Houweling's Farm
Houweling's Farm in Delta needed complete outfitting with FRP Panels in our standard smooth white finish.  Houweling's went with FRP wall protection panels because they are one of the most sanitary and easy to clean options. They also help meet the requirements set out by the agricultural licensing & compliance regulatory body and they can be quickly and easily installed throughout a large space. Our clients also appreciated the clean crisp look of the FRP panels.
FRP Helped Houweling's Transition from a Greenhouse to a Cannabis Cultivation Facility
Houweling's is transitioning from a greenhouse to a cannabis cultivation facility and needed FRP panels to help meet facility requirements. FRP was used in many rooms including the: break room, kitchen, garment rooms, storage, all corridors, and shipping areas.
Further Details:
Thicker Gauge: 0.09″ (other FRP panels from Crane, Panolam are 0.075″ thick). Graham panels are almost 17% more material thickness offering better wall protection and impact resistance.
All graham's panels are "Agri-Canada Certified" & CFIA  (Canadian Food Inspection Agency) Approved.
Class C Panel CAN/ULC S102-10
Flame Spread rating under 150
View other wall protection projects that was installed in the Break Room, Corridors, Garment Rooms, Kitchen, Shipping Area, Storage.
Product
Graham Exceliner Panels 
Colour/Finish
White Smooth - Premium Gel Coat
Recent FRP & Wall Protection Installations
The below projects showcase our recent wall protection installations across British Columbia. Should you require any additional information, please do not hesitate to inquire with our staff.
View all Installations

These guys came through on short notice. Excellent company to work with. Very professional installers made quick work of 13,000 SF in commercial farm. Was on time, on budget, and cleaned up after themselves. Definitely would use them again!
Chuck Lau

These guys did the walls on our longhouse kitchen walls all the way out at tofino wilderness resort! The service was awesome. Sales rep, Beau, is exceptionally helpful. Thanks guys.

Murrin Bewick

Great Company! Great People and amazing Installers. We needed about 85 linear feet installed on short notice and these guys came in and rocked it out! Installation was on budget and no surprises, just left with a quality install. Will definitely be using FRP Installations again. 2 thumbs up!!

Allen Vidovic

We used white FRP panel for our Kitchen and Janitor's room. Good quality, and they did great job. Fair price.
王静楠

Great quality work done in an efficient and organized manner. very fast and cleaned up after themselves daily.

Jacob Vanderveen